Vibrating Level Sensor
VM
Level Switches
Vibrating solid level switches
Main application
Solid detection. Integration into small to medium size hoppers for solids equipment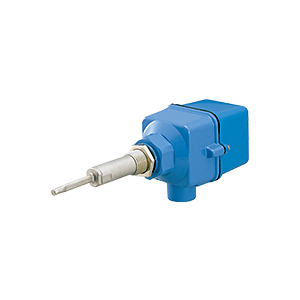 Main feature
No adjustment required
No commissioning is required and operational right after supplying power.
Suitable for virtually any solid applications
Insensitive to dielectric constant or static electricity. Suitable for virtually any solids and granular materials. Buildup on process connection does not affect performance.
Offers fail-safe functionality
High and low limits is easily selected. Safe operation.
Compact and low cost
Compact and low cost. Ideal for integration into solid equipment.
Principle of Operation
The detector incorporates a piezoelectric crystal and an acceleration pickup. The small phase shift of the pickup is detected and amplified. The amplified signal is applied to the piezoelectric crystal, and the crystal strains, causing the detector to vibrate. When the measured material covers the detector, vibration decreases or stops depending on the weight or pressure the material applies. The sensor detects the change in vibration, and gives an output to indicate level detection.